Community Solar Is The Future. Find out More
King Solar Project Open for Subscriptions
King Solar is the largest community solar project in Rhode Island. It is providing a direct benefit to the local economy through the creation of over 100 jobs in the state in the fields of consulting, engineering, construction and related workers, and has subscribed more than 500 local residents. Sign up now through Arcadia Power to save $75 towards your energy bill!
Hartford Pike Solar Project Fully Subscribed
Hartford Pike Solar is the newest community solar project in Rhode Island to be fully subscribed. In partnership with Arcadia, this community solar project will offer clean energy and savings to over 300 local Rhode Island residents. Learn more about the newest community solar project to be fully subscribed in Foster!
Rhode Island Low-and-Moderate Income Research Survey
In order to ensure that OER's outreach initiatives are effective in supporting LMI customer access to Rhode Island's community solar opportunities, OER conducted an online survey of A60 customers in partnership with National Grid. Learn more about the study that was conducted.
Community Solar Snapshot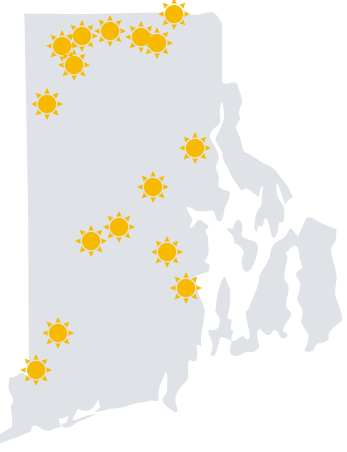 4,234
Customers signed up