Community Solar Is The Future. Find out More
Hartford Pike Solar Open for Subscriptions
SunLight General Capital's 3.48 MW community solar project, Hartford Pike Solar, is producing around 4,384,800 kilowatt-hours of solar energy in its first year, which is the equivalent of avoiding the consumption of 7,178 barrels of oil. Currently, the project is still actively subscribing customers. Learn more about the project and sign up now to start saving money on your electricity bill!
Beacon Solar Fully Subscribed
Beacon Solar is a 3.5 MW community solar project in Cranston, Rhode Island. The solar system serves approximately 600 customer households that reside in National Grid's territory. The system went live on December 28, 2020 and is now 100% subscribed. Learn more about the project here!
King Solar Open for Subscriptions
King Solar is the largest community solar project in Rhode Island. The project has subscribed more than 1,700 local residents and interconnection is expected in August 2021. Sign up now through Arcadia Power to save $75 towards your energy bill.
Community Solar Snapshot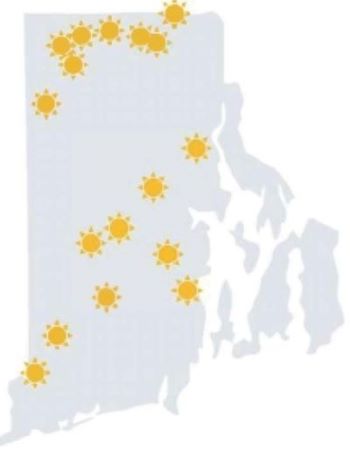 6,240
Customers signed up