Broncos Highway Solar

Project Details:
Project Name:Broncos Highway Solar
Subscriber/Management Company:Arcadia Power
System Size: 3,000 kW
Municipality: Burrillville
Type: Virtual Net Metering
Status: Fully Subscribed
This project was developed ISM Solar Development.
Broncos Highway Solar
Project Story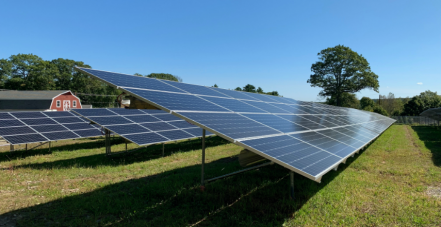 Broncos Highway Solar is the first project to operate under the 2016 Rhode Island Community Remote Net Metering Pilot Program, providing renewable energy benefits and reducing costs for residential customers. Consisting of 3.037 Megawatts DC of total distributed generation capacity, this project is estimated to produce 4.582 Megawatt hours in year one, and 145+ gigawatt hours over its service life.
This project is currently 100% subscribed by 715 National Grid Energy Customers.
Fun Facts:
This project was constructed on vacant commercially zoned land
It created 23,000 man hours of construction jobs
It reduces greenhouse gas emissions equivalent to 688 vehicles driven for one year
It eliminates CO2 emissions equivalent of 364k gallons of gasoline